Here is a Brief Guide to the new Bosses.
In order to get to the bosses you will have to enter the dungeon underneath the graveyard in Edgeville. After doing so you will find a lever on the west wall which you pull to get into the next dungeon. Keep following the levers until you reach Boss City. (You will NEED hits level of at least 80 and prayer level of at least 60)
After entering Boss City you can explore. To the East there is a Boss Token Skill Pack Shop. This sells skill and pk packs that contain approximately half the items that you would get in the same Sub Pack. To the South you will find both a Boss Token Armour Shop as well as and Boss Token Skill Pack Certer. The armour shops sells the new Boss Armour and Sword for Boss Tokens while the Certer trades in your new packs for the corresponding certs for each pack.
All the way to the North there are two bankers and right in the middle of the city you will find Maggie who will teleport you to the Boss Island where you can find the bosses.
Currently all Boss Armour and Sword is equal in bonuses to Titanium, however this will be changed so that the Boss items give you an advantage while fighting the bosses in the near future.
WARNING: Bosses are extremely difficult to fight.
Please note that they will hit you through your full Titanium armour and that you are not able to use Paralyze Monster against them.
I suggest teaming up with some fellow players to try to take them on.
Take turns fight the Boss while you use other accounts to range. The items in the shops are just our preliminary thoughts of what is best but the prices and items are subject to change. All bosses have the same combat stats and it is just the hits level that varies among them. If you have the time, don't be afraid to take on General Graardor.
Currently all bosses only drop Boss Tokens. The higher the level of the boss, the more tokens you have a chance to get. Start collecting your Boss Tokens as soon as you can so that you can buy whatever might be added later.
Boss City introduction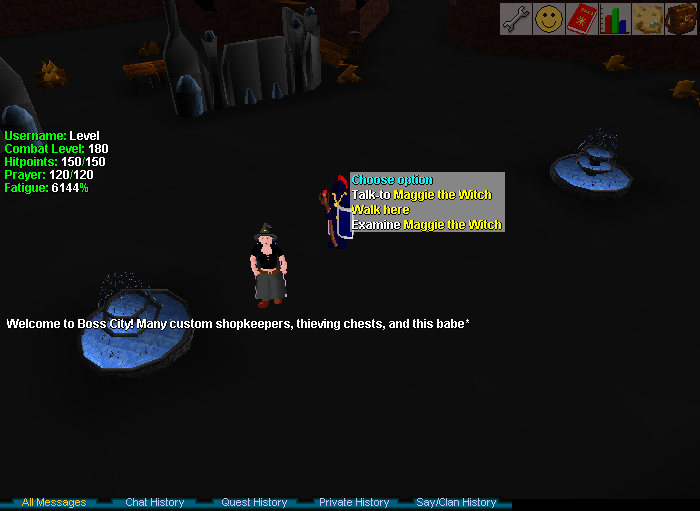 Thieving chests at Boss City(North and West): vial, shark, and fish chests
Bankers(North East); useful for quick banking after hunting bosses/thieving goods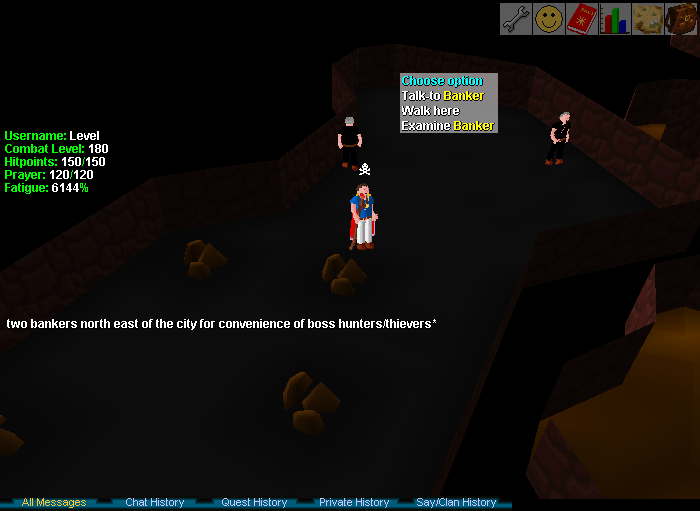 New addition of Ranged Targets(for ranged xp) close to bankers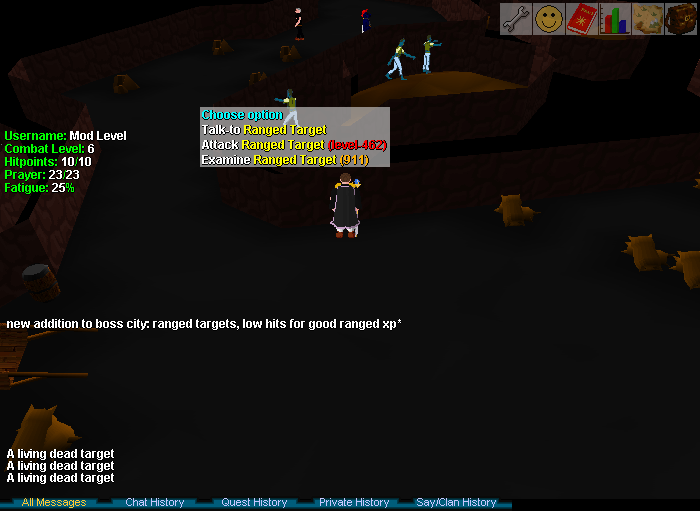 Skilling Certs shop w/ boss tokens (are half the goods from a sub pack version)
Skilling cert uncerter (east of city)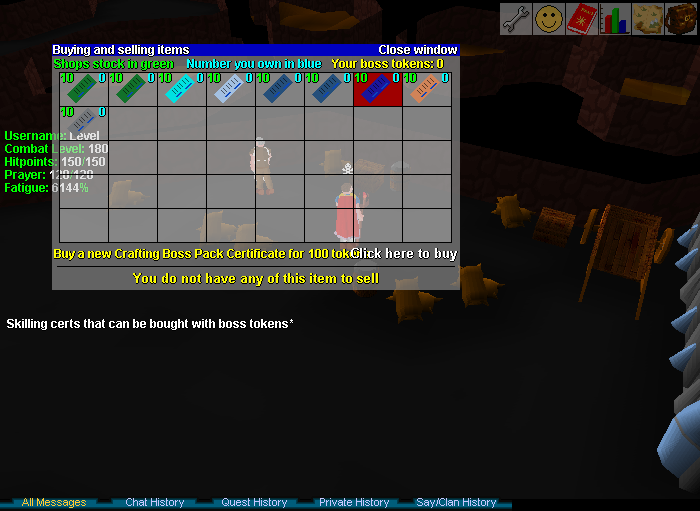 Boss Armory Shop; helps against those pesky bosses, tentatively to be buffed, southeast of city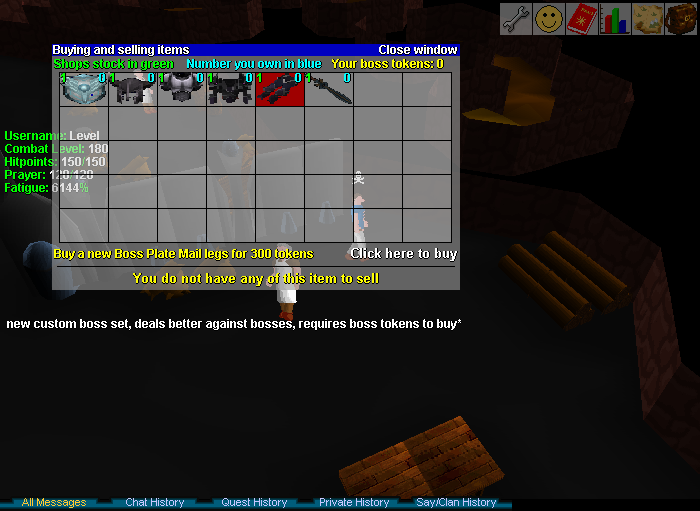 XP Packs for sale for 10 Tokens each, 1m exp per pack, southwest of city
XP pack uncerters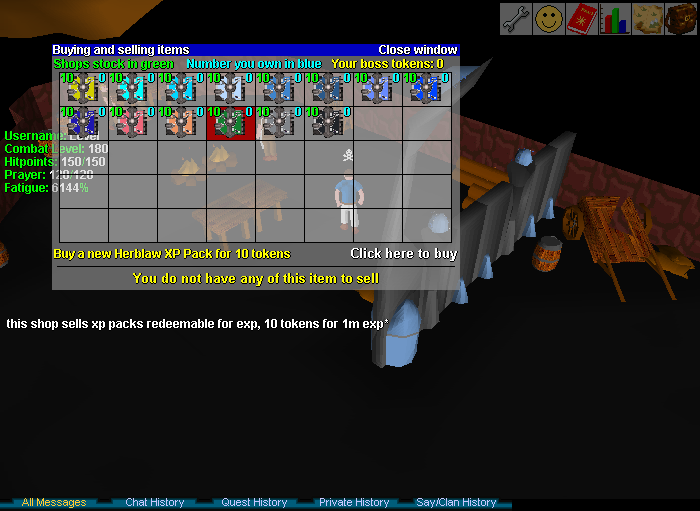 To wrap up our Boss City tour, this is Maggie! She teleports you to all things boss, but be warned about going to boss island, its dangerous!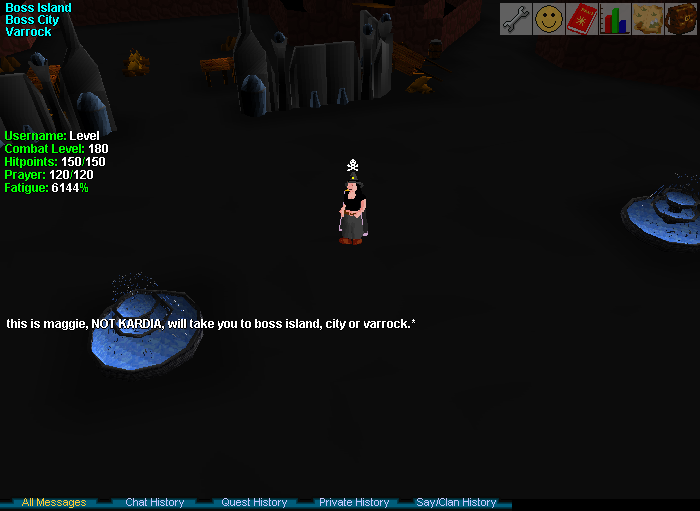 Moving onto Boss Island, the latest custom boss update in RSCKBD!
The Three Bosses of this Island, extremely tanky and strong
- General Graardor (lvl 7723) - 30,000 hits
- Nex (lvl 5223) - 20,000 hits
- Araxxor (lvl 2723) - 10,000 hits
NOTE: PARALYZE MONSTER DOES NOT WORK AGAINST THEM, AND THEY HIT THROUGH FULL TANK GEAR(TITANIUM SET)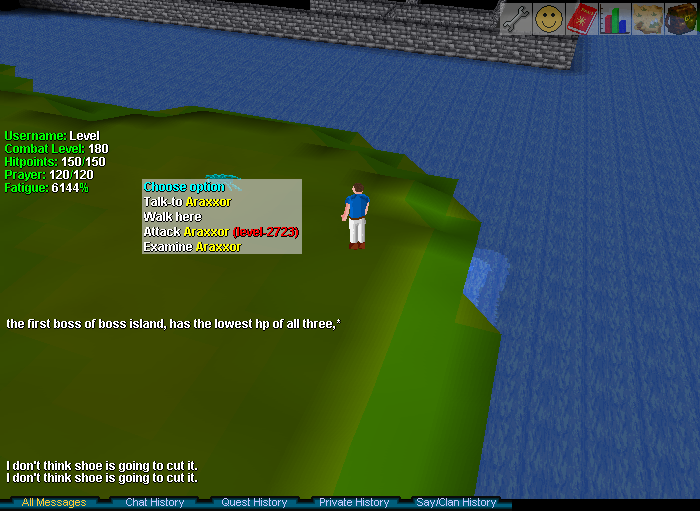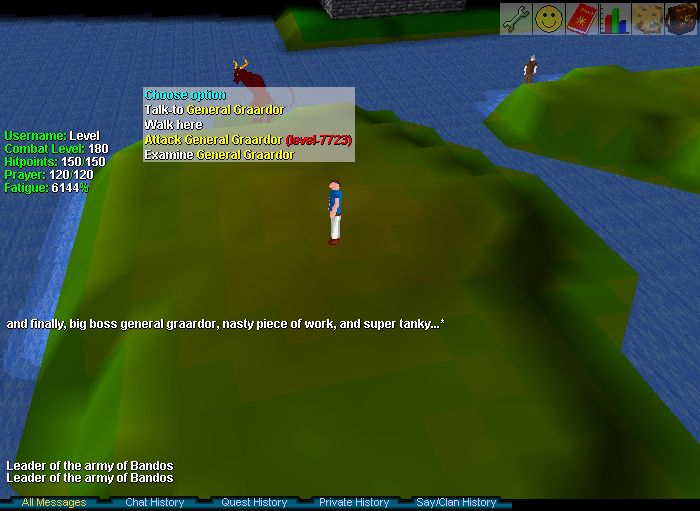 Some solutions to hunt these bosses?
Range/Mage with other players, use prayers and potions, and bring LOTS of food.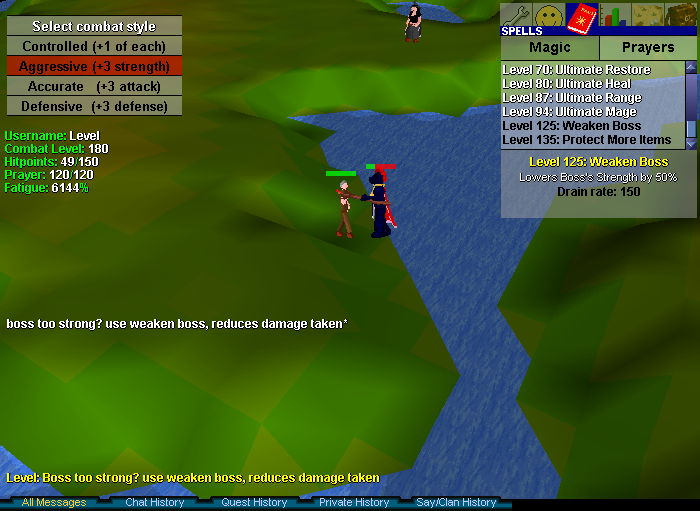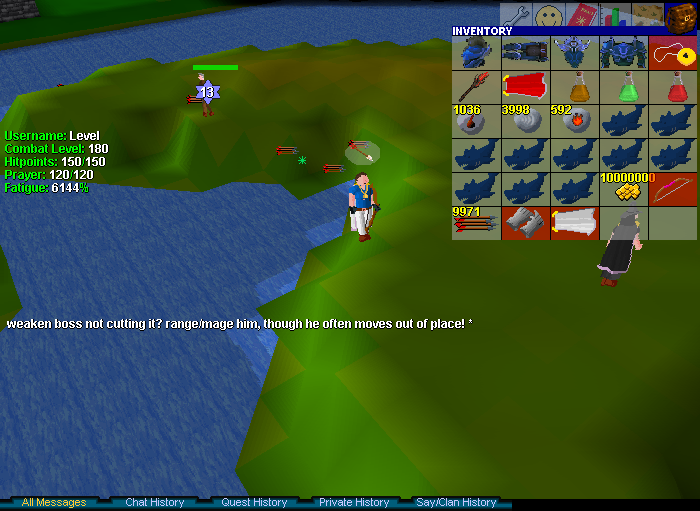 Questions/Mistakes? Let me know!

Level 5




Posts

: 7


Join date

: 2015-09-13





Similar topics
---
Permissions in this forum:
You
cannot
reply to topics in this forum